[pix_slideshow data_slideshow='beverly-cleary-park']
Beverly Cleary Sculpture Garden
ASK ABOUT OUR BACK-TO-BACK SAME DAY WORKSHOP OFFER STARTING WITH A SIT-DOWN
SESSION FOLLOWED BY A 3-HOUR DEMONSTRATION PHOTO SHOOT, LED BY A PROFESSIONAL PHOTOGRAPHER
And in case you're interested, click here to check out some FREE SAMPLES of our ONLINE CLASSES
Beverly Cleary, now 101 years young, is one of the most published children's book authors in the world, with over 91 million books sold and she is tributed with a whimsical 19 acre park of outdoor sculptures of her characters in the Beverly Cleary Sculpture Park of her birthplace, Portland, Oregon. In addition to the charming sculptures to photograph there are fountains, walking trails bordered by trees and flowers to capture landscape images. Your instructor will help you to employ a variety of composition techniques such as negative space, leading lines, Rule of Thirds, layering and panning.
Ample time will be dedicated to environmental portraits, to help capture the full narrative by adding the defining details of an experience while photographing friends and family in an outdoor setting. Surprisingly, it is easy to miss the obvious components but it is even easier to learn how to include such features. There will be tips for posing people in flattering ways, use of available props and backdrops that work against particular colors of clothing, etc. In fact, the tips for photographing others, will also be useful for being photographed.
2230 NE 33rd Ave
Portland, Oregon, 97212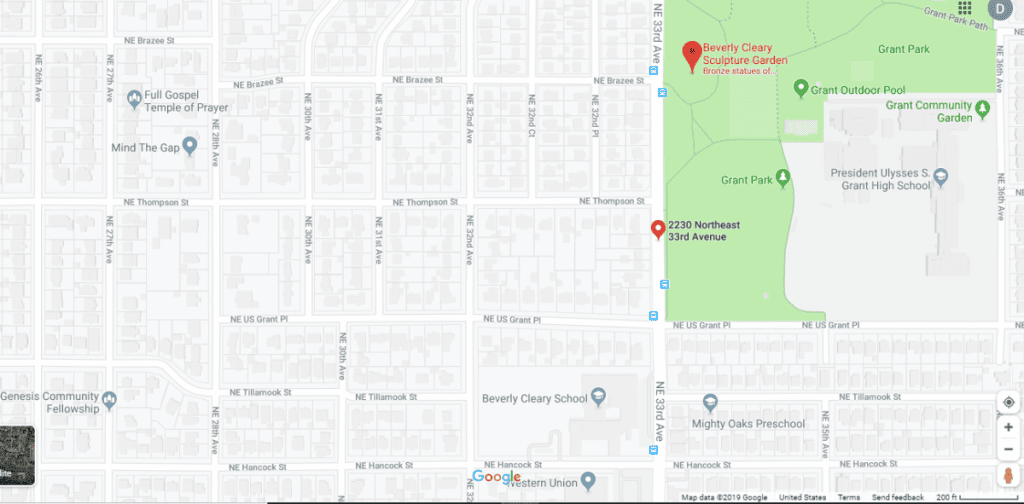 Call Digital Photo Academy at 1 877 372 2231. Lots of people seem to hang up if our welcome recording comes on instead of a live voice, but we promise to return your message within a day or two if you leave one with your name and number.  It would be even better if you included your e mail address as well as the date and city of the class you are considering.  If leaving a voice mail message is not your thing, please email us at DPAbooking@digitalphotoacademy.com or Richard@digitalphotoacademy.com.