Balboa Park Sunset Shoot
[smartslider3 slider=148]
ASK ABOUT OUR BACK-TO-BACK SAME DAY WORKSHOP OFFER STARTING WITH A SIT-DOWN SESSION FOLLOWED BY A 3-HOUR DEMONSTRATION PHOTO SHOOT, LED BY A PROFESSIONAL PHOTOGRAPHER 
And in case you're interested, click here to check out some FREE SAMPLES of our ONLINE CLASSES.
Note the images with Corky Andersen's name on them, because they are extra special, thanks to Corky's talents toward enhancing images! The last 6 images are Corky's. You can find more of Corky's wonderful images on her Instagram page, handle, https://www.instagram.com/corkyandersenmscorkya19/ .
Balboa Park is the nation's largest urban cultural park.  Home to 15 major museums, renowned performing arts venues, beautiful gardens, and the San Diego Zoo, the Park has an ever-changing calendar of museum exhibitions, plays, musicals, concerts, and classes—all in the beautiful and timeless setting of this must-see San Diego attraction!  So join your Digital Photo Academy instructor and go see it through your camera lens!
The Park's historic architecture and botanical garden provide countless image opportunities.  Experiment with macro photography to capture beautiful close-ups of blossoming flowers and enhance the tiny details of a leaf.  Your instructor will teach you how to bring out the colors of the flora and blur the background to show just the flower that you want to capture.
You will also learn new techniques to shoot a variety of architecture.  Learn how to find new angles and discover ways to balance different shapes and sizes of buildings and statues.  Play with wide-angle shots of buildings and highlight the small details found on church pillars.
Please bring your DSLR or another type of digital camera that you use, a fully-charged battery, and the equipment that you can carry.  You should dress for the weather and wear comfortable shoes.
Restaurant Craveology with a large green sign by the large water fountain.
Formally Galileo Cafe.
Located at the Fleet Science Center. 1875 El Prado, San Diego, 92101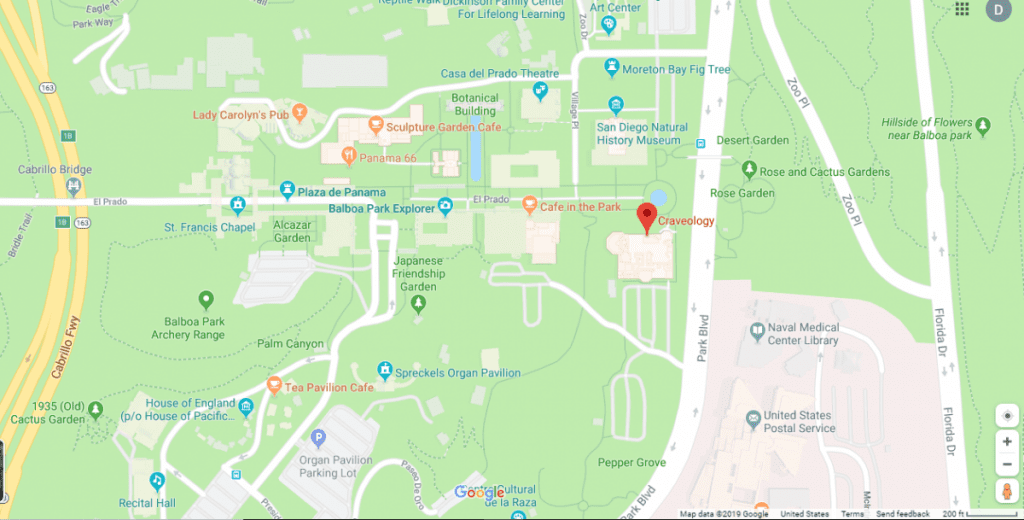 Call Digital Photo Academy at 1 877 372 2231. Lots of people seem to hang up if our welcome recording comes on instead of a live voice, but we promise to return your message within a day or two if you leave one with your name and number.  It would be even better if you included your e mail address as well as the date and city of the class you are considering.  If leaving a voice mail message is not your thing, please email us at DPAbooking@digitalphotoacademy.com.