Atlanta Botanical Gardens
[pix_slideshow data_slideshow='atlanta-botanical-gardens']
ASK ABOUT OUR BACK-TO-BACK SAME DAY WORKSHOP OFFER STARTING WITH A SIT-DOWN SESSION FOLLOWED BY A 3-HOUR DEMONSTRATION PHOTO SHOOT, LED BY A PROFESSIONAL PHOTOGRAPHER 
Your workshop falls on the iconic 4th of July holiday, so your lesson will include tips and techniques accordingly. Since tonight you might be attending a July 4th fireworks display shortly after your workshop, your instructor will be giving tips on capturing fireworks displays in a compelling manner, whether long exposure, shutter speed priority and other techniques!
In 1973, Atlantans proposed a botanical garden. Since then, the garden has flourished into an oasis just outside of Atlanta, a place for city-dwellers to find repose in natural surroundings.
The gardens include a myriad of flowering plants, all incredibly and intricately detailed. Learn to isolate a blossom, using depth of field to make sure it is in clear focus.
The gardens also contain a variety of fauna, along with the flora. Take a photo of a green frog blending in on a lilypad, or one of the more exotic amphibians in the Fuqua Conservatory. If you are lucky, you could also spot one of the Red-Tailed Hawks who make the gardens their home.
There is also a wide array of sculptures and fountains throughout the gardens. They change as different artists are featured throughout the year, so you never know what new and exciting installation you will encounter.
Water always makes for dynamic photographs. Learn to slow your shutter speed for water that looks velvety-smooth. Or use a fast shutter speed for a crisp image of water droplets mid-air.
Natural light varies much more than artificial. It can be challenging to shoot in the dappled shade of trees, but also very rewarding when the golden light hits just right.
Meet your instructor just by the waterfall/sign which is right outside the ticket booths a distance of about 100 feet.
Daily Admission*
SAGE Parking Facility
| | |
| --- | --- |
| Drop-off period (0 – 30 minutes) | no charge |
| 31 – 60 minutes | $ 2.00 |
| Each additional 30 minutes | $ 1.00 |
| Maximum daily rate | $15.00 |
1345 Piedmont Avenue
Atlanta, Georgia 30309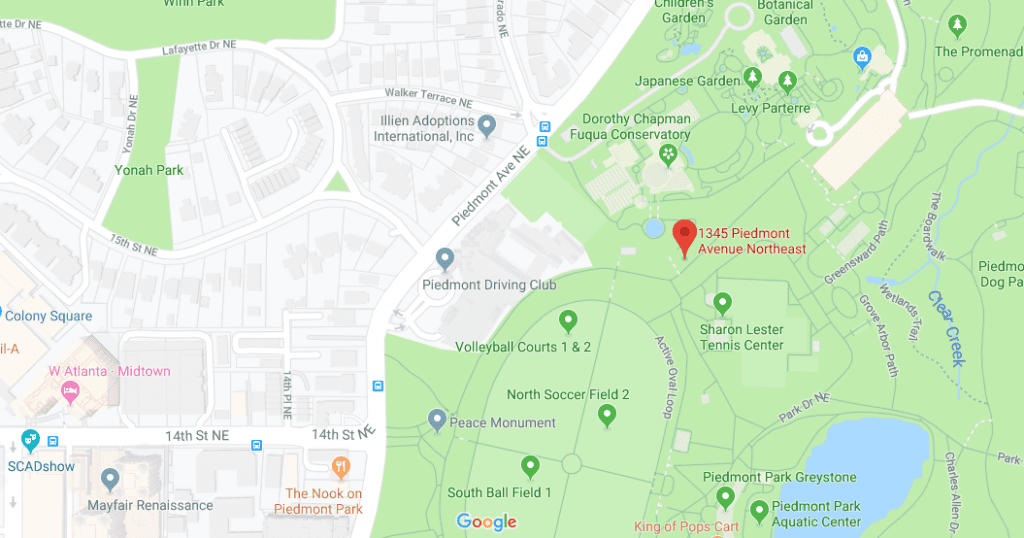 Call Digital Photo Academy at 1 877 372 2231. Lots of people seem to hang up if our welcome recording comes on instead of a live voice, but we promise to return your message within a day or two if you leave one with your name and number.  It would be even better if you included your e mail address as well as the date and city of the class you are considering.  If leaving a voice mail message is not your thing, please email us at DPAbooking@digitalphotoacademy.com.