Anna Scripps Whitcomb Conservatory
[pix_slideshow data_slideshow='anna-scripps-whitcomb-conservatory']
ASK ABOUT OUR BACK-TO-BACK SAME DAY WORKSHOP OFFER STARTING WITH A SIT-DOWN SESSION FOLLOWED BY A 3-HOUR DEMONSTRATION PHOTO SHOOT, LED BY A PROFESSIONAL PHOTOGRAPHER 
And in case you're interested, click here to check out some FREE SAMPLES of our ONLINE CLASSES.
The Anna Scripps Whitcomb Conservatory has 5 sections which includes a show section of flowering plants and is the oldest running conservatory in the U.S. Your DPA instructor will help you capture images that transcend a snapshot sensibility to a more compelling image, turning ordinary to extraordinary. Dating back to Medieval paintings and before, artists have successfully employed easy to learn composition strategies that speak to the viewer.
Learn a dozen Composition Techniques during this 3 hour workshop that will allow you to analyze visual settings and effectively share them with great variety in all future photo shoots, on each occasion developing your own signature style of making photographs.
Perhaps you encounter a quiet elderly couple on a bench which strike you as a tale of long lasting mutual devotion and you want your final photo to convey the story with the same poignancy that appealed to you as you snapped the shutter release. It might be immediate impulse to simply center the couple in your viewfinder and snap but think about a "LEADING LINES" COMPOSITION approach that places a lamp post in the lower right of your frame, adjacent to a walkway that leads a visual path that culminates at the point where the couple are seated. Rather than an overly posed snap of the people self-consciously smiling for your camera, this approach will more likely create a narrative in your image, revealing two individuals who are unaware of your presence which allows their authentic emotions to be captured. Your image now tells your viewer to stop and ponder the nuances of the long endured companionship enjoyed by the two people that comprise your main subject.
Or maybe you come upon a vibrant rose and want to capture its rich beauty in your photo but somehow the final image lacks a certain luster. Your DPA instructor will demonstrate a "COLOR CONTRAST," approach that sets the red rose against the rich green of the grass in the background that you had originally failed to notice. The colors play off of each other and the lush saturation of the flower is depicted. Now add an Aperture Priority approach and blur the background for a green painterly effect that highlights the crisply captured flower.
The Anna Scripps Whitcomb Conservatory is actually part of the Belle Isle Park. The parking lot is at this address and the Anna Scripps Whitcomb Conservatory is visible from the lot and a short walk to the entrance. There is no charge to enter.
4 Inselruhe Ave
Detroit MI, 48207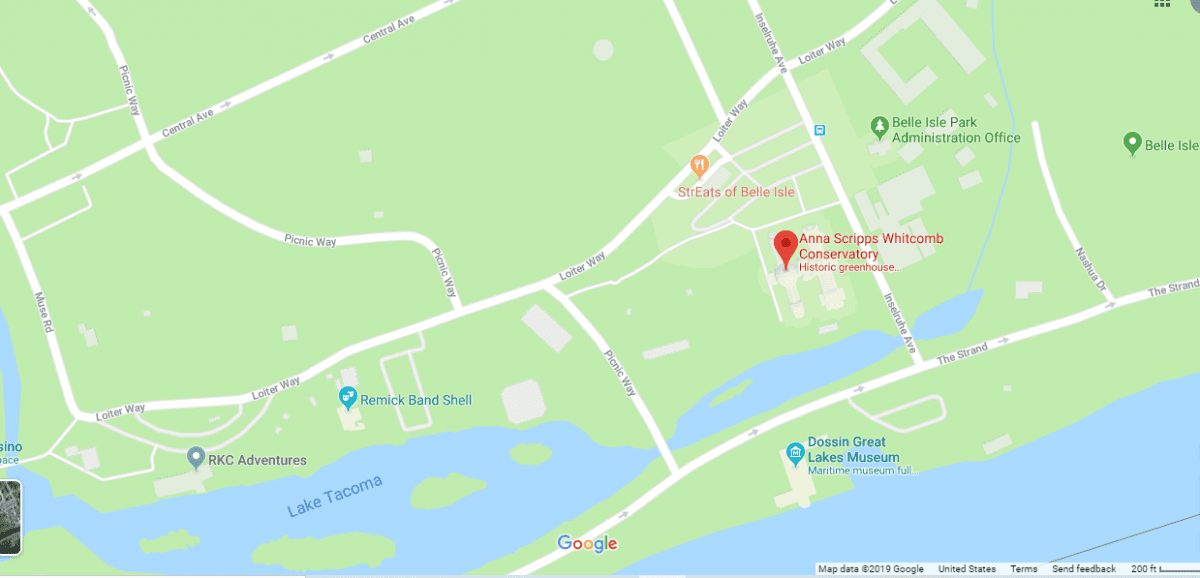 Call Digital Photo Academy at 1 877 372 2231. Lots of people seem to hang up if our welcome recording comes on instead of a live voice, but we promise to return your message within a day or two if you leave one with your name and number.  It would be even better if you included your e mail address as well as the date and city of the class you are considering.  If leaving a voice mail message is not your thing, please email us at DPAbooking@digitalphotoacademy.com or Richard@digitalphotoacademy.com.