Allan Gardens[pix_slideshow data_slideshow='allan-gardens']
ASK ABOUT OUR BACK-TO-BACK SAME DAY WORKSHOP OFFER STARTING WITH A SIT-DOWN SESSION FOLLOWED BY A 3-HOUR DEMONSTRATION PHOTO SHOOT, LED BY A PROFESSIONAL PHOTOGRAPHER 
And in case you're interested, click here to check out some FREE SAMPLES of our ONLINE CLASSES
Now you have no excuse to remain indoors to avoid winter weather, because this photo session takes place in the temperature controlled interior space of the Allan Gardens Arboretum. Since 1858, visitors year round have been enjoying the beauty of Allan Gardens, including its majestic structure and its colorful contents of plant life, flowers and walkways.
Digital Photo Academy instructors are adding to the activities by leading a class on tips and techniques to make great photos to immortalize your visit. Learn the best way to shoot in challenging natural light and gain knowledge of options for composing your layouts so they are most pleasing to anyone who views the photographs you make. Techniques such as macro photography, depth of field, leading lines and other easy to understand strategies will be shared. Since there are seating areas available in Allan Gardens, the session will even include a lesson on portraiture. And if there are moments of relief in low temperatures, we can even try outside portraits against an array of nearby outdoor wall paintings.
19 Horticultural Avenue
Toronto, ON M5A 2P2
Canada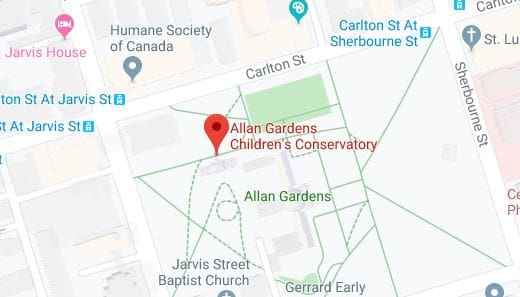 Call Digital Photo Academy at 1 877 372 2231. Lots of people seem to hang up if our welcome recording comes on instead of a live voice, but we promise to return your message within a day or two if you leave one with your name and number.  It would be even better if you included your e mail address as well as the date and city of the class you are considering.  If leaving a voice mail message is not your thing, please email us at DPAbooking@digitalphotoacademy.com.